Brands have tried to keep up with this tendency, but without a clear engagement strategy and choosing inadequate tools and partners.
Brands (sometimes even each brand activity) ended up having single touchpoints that work as completely separated silos, with their own processes and databases.
This way, consumers find themselves having chaotic interactions with the brand; providing, for instance, repetitive information or registering over and over again.
Not being able to identify the consumer's identity, brands loose behavioral perspective on their consumers. This is something brands cannot allow to happen in the era of the Connected Consumer.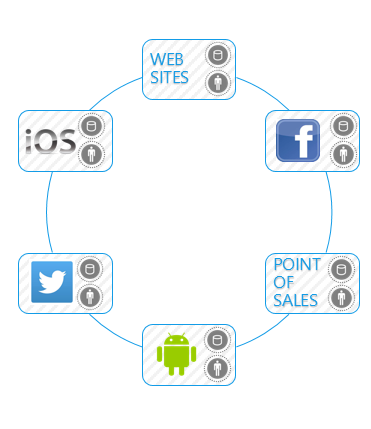 TO DO CONSUMER ENGAGEMENT
RIGHT, YOU NEED THALAMUS
You need to define and implement a Consumer Engagement Strategy…
…that focuses on learning about your consumers from each interaction…
…assuring a consistent brand message, interaction and experience at every possible touchpoint (digital and non digital)…
…and enabling your brand to engage millions of consumers with rich and meaningful activities and communications that align to your brand strategy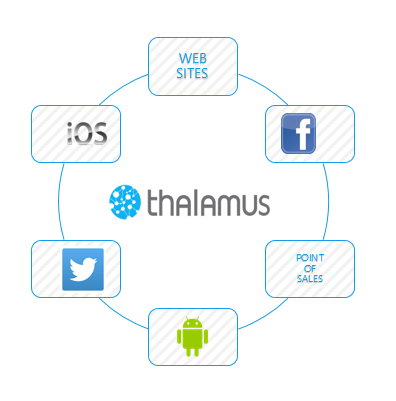 ONE SOFTWARE TO EXECUTE ALL YOUR CONSUMER ENGAGEMENT NEEDS
Consumer Registration, Dynamic Profiling and Market Segmentation.
Segmented Outbound and Inbound communications through multiple channels: E-mail, SMS, Mobile notifications, Direct Mail, Phone Calls, and so forth.
Multi-touchpoint marketing activities: Mileage Programs, Instant Wins, Event Invitations, Contests, Gamification, Surveys, among others.
Digital and Non Digital touchpoint integration: Social Media, Web, Mobile (iOS, Android, Windows mobile), Contact Center, Direct Mail.
An integrated business intelligence tool: Tableau. We have incorporated the world's best Business Intelligence tool, which provides Thalamus with a full breadth of capabilities to create visual analysis such as reports and dashboards.