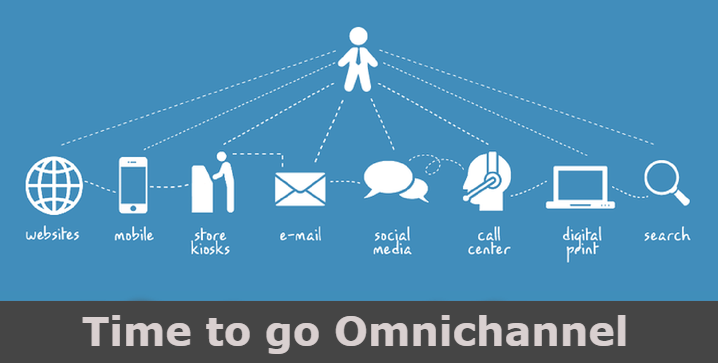 What are Omnichannel strategies and why do you need to implement them?
The way we do business and design our marketing strategies is dramatically different to what we used to do a few years back. Nowadays, our clients are hyperconnected and expect specialized services that are up to speed with their needs.
The world has changed

 

into a hybrid place, full of fragmented experiences,
where
online
and
offline
get mixed together to form a new whole. Today's sales begin with Google searches, hours of reviews on blogs or YouTube channels, and include visits to stores. What happens when the client decides to make the purchase in-store, but the product they viewed on the website isn't available? Or vice-versa? What happens when the in-store inventory isn't the same as the online inventory? Or in this case, perhaps even more common: You call your bank and update some of your information; but when you log on to your online banking, none of the changes have been made.
Omni-channel models

 

seek to remove these barriers

 
and to connect the different fragments of the day-to-day into one long, uninterrupted moment. The structures are built based on client expectations about the services we provide. They are nothing less than a solution that allows for integrated, constant and continuous communication, no matter when or where they connect, or from what device; which ultimately lets you gather data from all possible points.
What do you need to start an Omnichannel model?
Develop an omni-channel model adapted to your needs, always taking into account the vision and function of each area of your company.
Always value both the online and offline experiences of your clients.
Optimize your communication channels for use with new technologies.
Execute, measure, refine and execute again in order to continuously optimize.
Know your target audience. Listen to what they have to say; and above all, learn about their preferences based on their behavior.
Create strategies bases on the data and information you gather.
Offer personalized and uninterrupted experiences. Being omn-ichannel, you should be available for your clients, in one form or another, 24 hours a day.
​A few final thoughts
​First of all, be clear on the fact that
being multichannel does not make you omnichannel
. Multichannel businesses use different platforms and tend to have inconsistencies in their communication. A multichannel business draws upon solutions that aren't centralized and, although they may have the same objective, are detached from one another. In general, they are provided by advertising agencies, traditional CRMs, or are cobbled together from any number of different software.
Omni-channel integration
goes deeper, and allows you to build strategies oriented towards a diverse range of objectives, making it necessary to utilize platforms like
Thalamus Consumer Engagement
, which are robustly designed and directed at understanding consumer needs. Next, it's important that you know that
every infrastructure is unique
. So it should be adapted to the needs of the service you offer. A retail store with wide product catalogue will never be the same as a travel service that lets you make reservations, payments and plan your itinerary. Finally, a reminder that t
he aim of this new model is to

 

make life easier for your clients
. The reason that marketing has evolved is due to the fact that consumer behavior has changed. Always being present, at every micro-moment in the life of a user or client, is the essence of the
Omni-Channel
philosophy.